Description
The Paris Opera has entered this dream with us, around a shared vision of excellence and a rootedness in the French musical and historical heritage, to design an exceptional partnership.
The first steps of this partnership took shape with the opening of a Space within the Palais Garnier, and the launch of a unique Phantom, embodying the meeting of a historic French institution and one of the most promising tech companies.

For the Paris Opera, Devialet designed a special edition of his Phantom, a piece of extreme engineering

Inspired by the aged gold, symbolic of the theater, Phantom Opéra de Paris | Devialet bears the Paris Opera logo and has its goldsmith's flanks gilded with gold leaf by the Ateliers Gohard, which also restore the gold of the Palais Garnier.
Devialet Phantom Gold Opera, the ultimate connected speaker.
Each note resonates crystal clear thanks to the Grade 1 pure titanium tweeter, coupled with extreme power and ultra-deep bass. The quintessence of the sound, sublimated by a 22-carat gold-plated finish.
0 distortion – 0 saturation – 0 blast
UNREASONABLE SOUND. IMPLOSIVE.

Experience the splendor of songs you've already heard a thousand times thanks to Phantom's ultra-dense sound. From infra-bass to very high, an extraordinary amplitude without any distortion, no saturation, no breath, and this up to 4,500 Watts and 108 decibels. Emotion in its purest form.
AT THE HEART OF THE REVOLUTION.

Phantom Premier alone illustrates the idea of progress that Devialet is working towards: to make more accessible the emotion of high-fidelity sound hitherto reserved for an elite. ADH®, SAM®, HBI®, ACE®... its performance is the result of a combination of patented radical inventions, improving by 10 to 1000 times the performance measured throughout the sound reproduction chain. Devialet technologies are forever changing the world of sound.
A unique design in the world.

108 patents, 12 kilos of high technology, 60 kilos of thrust force of the bass speakers. An internal sound pressure of 174dB equivalent to that of a rocket at take-off. The design of Phantom Premier is a true technological feat.
A team of more than 80 engineers, experts in the fields of aeronautics, automotive, acoustics, mechanics, 10 years of Research and Development and 25 million euros invested were necessary for Phantom to reach these unprecedented levels of physical constraints.
New engineering that surpasses all old systems

Phantom is unlike any other existing system. Much more than a connected speaker, Phantom emits sound through an absolutely revolutionary and radically superior process created by Devialet engineering.

Patented inventions Devialet DHA® and HBI®.

Invented and manufactured in France, protected by 108 patents, Phantom forever changes the world of sound.
| | | |
| --- | --- | --- |
| 12 | 1.2 | 30 |
| High-tech kilos | Ton of pressure to seal Phantom tightly | Kilos of push force of the side domes |
Ultra-dense sound with physical impact
Phantom's ultra-dense sound elicits surprising emotional experiences.
Discover the splendor of pieces you've already heard a thousand times.
For the first time in all their amplitude, be amazed from infra-bass to very high, without any breath, no saturation, no distortion, and up to 4,500 Watts and 108 decibels of power.
A Phantom or two Phantoms?
A solo Phantom is already an extraordinary experience, hardly believable for such a compact system.
With a second Phantom, listening becomes even more powerful, more spatial, more extreme.
Absolutely immersive.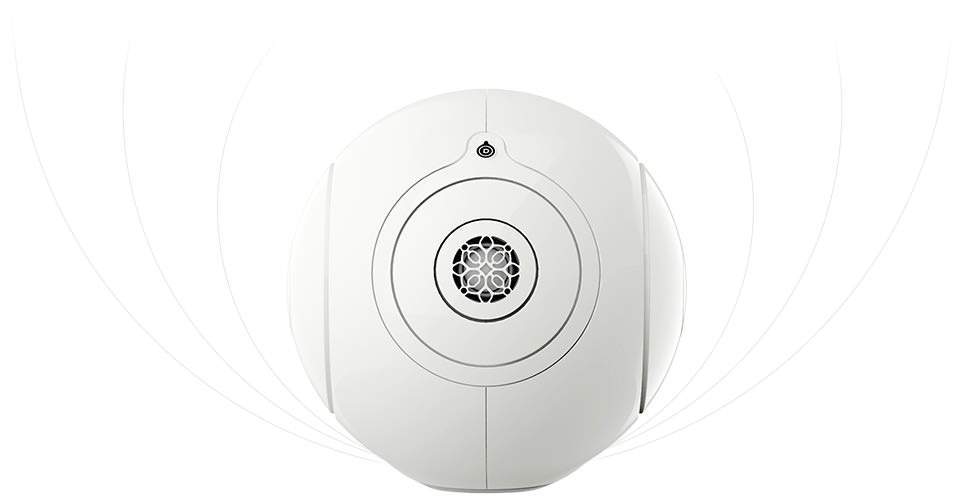 Permanent upgrade
Phantom is constantly improving
It is constantly evolving and perfected by free updates,
for even better performance and new features:
WebRadio, integration of new online music services...
many new features are coming.
Product Details
Data sheet
| | |
| --- | --- |
| Feeding | Sector |
| Wired connection | Optics |
| Wireless connection | Bluetooth v4 and Wifi |
| Guarantee | 2 years |
| EAN13 | 3663424013444 |